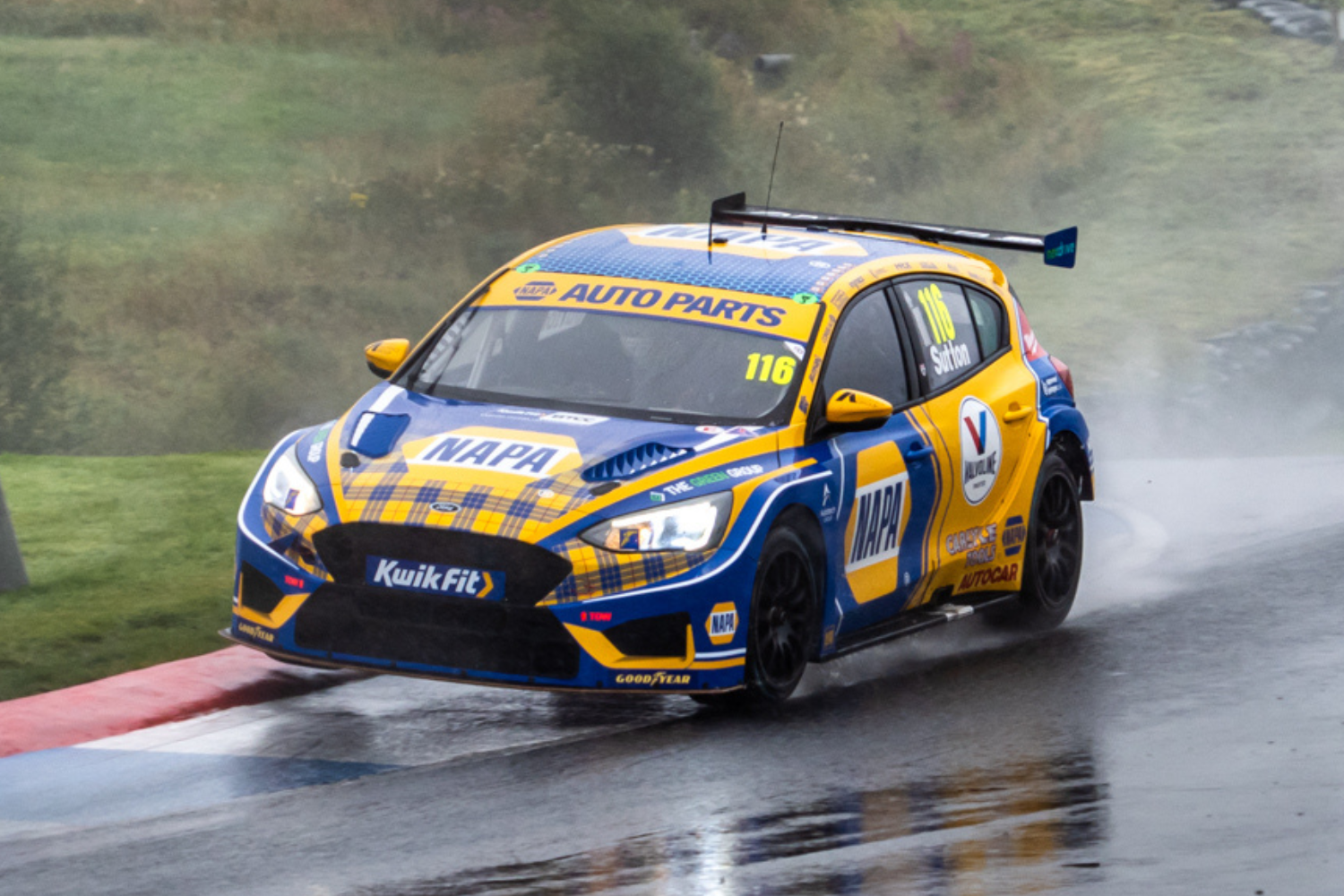 mountune-powered NAPA Racing UK journeyed north to one of the calendar's most breathtaking venues last weekend for rounds 19, 20, and 21 of the Kwik Fit British Touring Car Championship at Knockhill.
The weekend marked a significant milestone for the team with Race 2 on Sunday commemorating their 50th BTCC race. It was also one year since Ash Sutton clinched the team's inaugural victory in 2022 at the same circuit, which now holds a special significance for the team.
In honour of this event, NAPA Racing UK had many plans up their sleeves to help raise vital funds for Race Against Dementia, founded by three-time F1 World Champion and seven-time Grand Prix winner, Sir Jackie Stewart OBE. All the NAPA cars at Knockhill underwent a charming Scottish transformation, adorned with a one-off tartan livery. The team were accompanied by a very special performance ahead of the team's 50th BTCC race by bagpipers and sported limited-edition Scottish NAPA Racing t-shirts and caps, which sold out within 24hours by fans at the NAPA Shop onsite.
NAPA Racing UK would like to thank everyone for their generous donations and for taking part to help raise a total fund of £10,235.76 towards winning the Race Against Dementia.
BTCC QUALIFYING
Ash Sutton maintained the astonishing qualifying record for NAPA Racing UK as he took the team's seventh consecutive pole and his fourth of the season.
With the return of the 'Top Ten Showdown' the initial 30-minute session commenced in wet conditions before the tight and twisty Scottish circuit rapidly dried throughout the session, with only Sutton making it through to the top-ten shootout after both Dan Cammish and Dan Rowbottom picked up damage, while Osborne qualified P16. As the clock counted down, it was Sutton who emerged victorious, grabbing pole position by only 0.006s.
QUALIFYING RESULTS
Ash Sutton – 1st
Dan Rowbottom – 13th
Sam Osborne – 16th
Dan Cammish – 23rd
RACE 1
As the lights went out on Sunday's race, Sutton made a lightning start, storming into the first corner and maintaining the lead. The excitement intensified by lap 6, as the field was faced with a sudden torrential downpour with transformed the Fife circuit into a slippery challenge. Whilst others faced challenges, Cammish climbed from 23rd to a spectacular fourth place on slick tyres.
However, despite their mesmerizing display of car control on slick tyres, both Cammish and Sutton were forced to pit for wet tyres, dropping them down the order.
RESULTS
Ash Sutton – 6th
Dan Cammish – 14th
Sam Osborne – 18th
Dan Rowbottom – DNF
RACE 2
Race 2 marked a special milestone for the team as NAPA Racing UK took to the starting grid for their 50th BTCC race and the 50th anniversary of Sir Jackie Stewart OBE 3rd F1 World Championship.
The phenomenal action continued as Sutton surged from sixth on the grid to third in only the first couple of corners. Despite a brief safety car period, he promptly maneuvered past Stephen Jelley, elevating himself to second place.
RESULTS
Ash Sutton: 2nd
Sam Osborne: 17th
Dan Rowbottom: 23rd
Dan Cammish: DNF
RACE 3
With the top seven from race two reversed, Sutton lined up on the third row, but a sudden downpour delayed the start. After the rain eased, the race began behind the safety car, as the field was released, Sutton charged through the field in a wet weather masterclass and stormed to victory with an impressive 10 second clearance from Josh Cook.
Ash has now extended his championship lead by 37 points heading into the final three weekends of the Kwik Fit British Touring Car Championship.
Meanwhile, after starting down in 24th, Cammish showcased his remarkable driving skills, weaving through the field and surging into an impressive 10th position.
RESULT
Ash Sutton – 1st
Dan Cammish – 10th
Sam Osborne – 13th
Dan Rowbottom – DNF

THE TEAM
OLY COLLINS – TEAM MANAGER
"Knockhill always offers up excitement. It's a difficult weekend to sum up in short as there are so many takes on it. I think we all saw the brilliance of Ash on Saturday and then a conversion into a mega points haul for our championship challenge. Winning from the front is great, but winning when things could go so easily the other way is what Champions do so well. Cammish was looking mega in qualifying, but the smallest error had huge consequences on the whole weekend. Sam's performance was looking really solid, but again circumstances just went against him, taking away some potential results. Rowbo just had the worst luck all weekend, a technical issue, completely out of his and the teams control stopped him for Race 1 and put him at the back, then again in Race Two a freak puncture just summed up his weekend. As a team, we will investigate everything in detail, learn from the negatives as much as the positives and move on in a better position for the remaining three race meetings."
ASH SUTTON – NAPA RACING UK, NO.116:
"I'm ecstatic I won't lie. After Race One I thought we were going to have a tough task on our hands in terms of the Championship, but with the disqualification of Tom [Ingram] and the performance in Race Two and then finish it off with a win, I couldn't ask for much more than that. 
This is the biggest gap I have ever experienced in British Touring Cars so I'm not going to complain about it at all, but we have seen even this weekend how quick things can change. I'm not going to get too excited just yet. We are closer than we have ever been before, but we still need to be clever."
CHAMPIONSHIP STANDINGS
1st – Ash Sutton: 310
5th – Dan Cammish: 220
7th – Dan Rowbottom: 144
20th – Sam Osborne: 48
JACK SEARS TROPHY
4th – Sam Osborne: 283
TEAM STANDINGS
1st – NAPA Racing UK: 525
MANUFACTURERS / CONSTRUCTORS
2nd – Motorbase Performance/Ford: 568
Next stop, Donington Park for Rounds 22, 23 and 24 of the BTCC championship on the 26/27 August.